Backpacks and Children's Scoliosis: Is there a connection?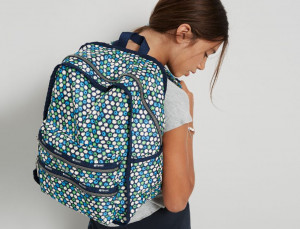 Overstuffed backpacks with many, many books seem to be a reverent symbol of wisdom, and a weapon of infinite knowledge for every young student. But this doesn't mean that the carriers of knowledge should act as a physical burden straight onto the students' shoulders and spine. The debate on how harmful heavy backpacks can be is still open, urging all of us to look for alternatives and solutions.
According to Harvard Health, the constant pressure due to the backpack's weight can lead to bad habits, such as a faulty posture and the tendency to hunch your back in order to balance the strain from the weight, facing bigger dangers in the long run, like spinal discs compression. This is why it is all the more important to pick the right backpack, not solely for its good looks but mostly for its proper design, and even replace it timely in case it wears out.
Η Karen Jacobs, κλινική Καθηγήτρια στο τμήμα Εργοθεραπείας του Πανεπιστημίου της Βοστώνης, Πρόεδρος του Αμερικανικού Συλλόγου Εργοθεραπείας και εκπρόσωπος για την Eθνική Μέρα Ενημερότητας για τη Σχολική Τσάντα (National School Backpack Awareness Day), μίλησε στο Goop για το πώς να αντιμετωπίσουμε το βάρος της σχολικής τσάντας, αποφεύγοντας τους πόνους στην πλάτη και τις ενδεχόμενες σωματικές δυσμορφίες των παιδιών.
For Jacobs, the problem with backpacks is due to a number of factors, with the main of them to be the fact that a backpack can overall be too big for their body type and also lacking all the right aspects to their design.
What are the proper backpack features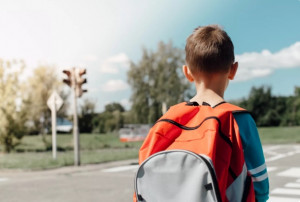 Branislav Novak/EyeEm/Getty Images
The right backpack has to contain two padded shoulder straps, padding on the back of the backpack and also a light, breathable material. Two padded shoulder straps are visibly wider than the regular type and can help adjusting better the weight to the body. Pads can also prevent this feeling of "pinching" to the trapezoids muscles, a common phenomenon met with regular straps.
Since children, often cross roads when it's dark out, it is preferable to choose a backpack that also contains reflector panels for visibility and mesh side pockets. Backpacks with too many compartments are not so welcome, as children tend to fill them up with things they don't actually need, making the backpack even heavier than it should be. Another addition is hip or chest straps, as the burden is transferred from shoulders to the hips, making it more sufferable.
In order to understand when a backpacks fits correctly to our children's body, it has to fit like la rectangle on your child's back. The top of the backpack shouldn't be higher than the shoulder blades as you don't want the backpack leaning on the neck. Especially for younger students, backpack should be small enough to fit their little back. Also, the one-shoulder look may seem cool, but it's definitely wrong, as it puts all the pressure to one side, causing intense pain and in some cases, even a muscular spasm.
Organizing the backpack is another way of distributing the weight properly. All items should be placed relatively equally, putting the heaviest items first or in the middle, closest to the body.
When it comes to roller backpacks, Jacobs warns that parents have to make sure first that their children won't have to lift them around for a long period of time instead of pulling them, over stairs for example, risking to get injured, or carry them on their shoulders, as they are not designed to fit in children's back correctly, making matters worse. In any case, when children have to stand for too long with their backpacks on, waiting for the bus, it is advisable to take them off while waiting, allowing for a short break.
Luckily, the backpack burden issue is expected to be resolved digitally. A positive outcome of new technologies is the gradual use of tablets in the classroom, and digital books, thus reducing significantly excessive weight of traditional hardcover books.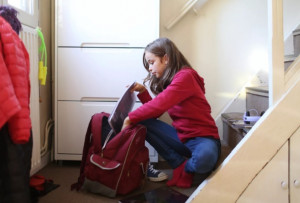 Catherine Delahaye/ Getty Images
Backpacks and their impact to children's orthopedic problems
In regards to backpacks' weight, although research in the past that has suggested that a backpack should not be more than ten to fifteen percent of a child's weight, new studies have not found a direct connection between the two of them, with the accurate weight differing for each child's case. For Jacobs there hasn't been a longitudinal study, that has looked at kids wearing backpacks from preschool through college, making it a personal purpose of her own in the future.
Backpacks can't be solely accused for chronic back pains or injuries, as technology and a sedentary lifestyle together are contributing more to the problem. More specifically, scoliosis, a lateral deflection of the spine in a C shape, has often unknown causes thus speaking of "idiopathic scoliosis" and in many cases is due to inheritance.
Proper treatment for back pains and scoliosis
However, as the risk of developing scoliosis increases in the period of major development, during puberty, for eleven year-old girls and for boys at the age of thirteen, it is important to have a mild yet beneficial form of exercise in their daily lives program. In addition, it has been noticed that young children with back problems also have annoyance in their later adult lives, making it necessary to strengthen their muscular system early on with the appropriate exercises.
An ideal form of exercise for many is considered to be bathing, exercising the body harmoniously and pleasantly in contact with the fluid element, without any fear of injuries or pressure to the spine and joints, thanks to the buoyancy of water.
Posture Corrector Back Support for adults and children
Bearing in mind that the tendency for bending and poor posture over time can become a harmful habit, which does not change easily, Christou1910, has created an innovative, epidermal product to relieve the back with an "educational" character for both adults and children. The posture corrector back support relaxes the heavy back, keeping arms up and creating a natural feeling of stretching, that facilitates the spine, back and the neck to untighten.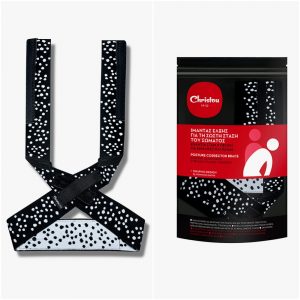 Working on a daily basis as a personal trainer for the right, "proud" stance on our backs, the posture corrector back support prevents the tendency to hunch as we walk, stand up or sit. With skin-friendly materials and soft pads under the armpits, children can wear the belt, at least thirty minutes of an hour each day, helping the shoulders and backs to be relieved especially after the buckle of the school bag or the long-term study at school. Although, as we have said, scoliosis is not attributable to specific pathological causes, the back support assists the affected back and restores it to its proper posture, preventing any deterioration.
That's why the next time you go to the supermarket, along with the healthy foods and snacks you choose for your kids, you can simply include to your purchases the back support from Christou1910 health stand in the cosmetics department (see the list here), choosing a protective health accessory that will correct the bad posture that so often hassles them!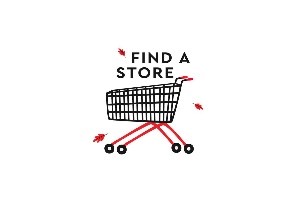 Did you know:
In our country, according to surveys, the weight of the school bag ranges from 4 to 7 kilograms to public primary schools, while in Ireland and the US it reaches 12 kilos. In a recent survey in Italy, the average weight of a school bag for children aged 11-12 years was 9.3 kilos, or about 22% of their body weight. The school bags of some children weighed up to 16.3 kilos, that is, almost half their body weight.
In case a school bag is too heavy, it acts as an opposing force that pulls the child back, forcing it to use his body as a counterweight, changing his body posture by hunching or pushing the bow forwards.
Share this article